It appears to me that in the present day and age, our entire society seems to be rigged with this virus of victimhood. And that is a real problem.
An old quote of mine reads, "More than being identified with the victim in your story, be identified with the observer of it. The latter is closer to the truth."
In this episode of The Unlearning Playground, I expand on what I mean when I say this.

Like most of my everyday-life advice episodes, this one is also centred around wisdom that's applicable to and is pragmatically focussed on our day-to-day lives.
And you'll also see why this is quite a necessary collective message for our times too, because like I just mentioned, if you look closely, we seem to be collectively rigged by this virus of victimhood.
If I was to summarise the need for this episode and the message therein, I would summarise it in this beautiful quote whose author I am unaware of, "If you don't heal what hurt you, you'll bleed on people who didn't cut you."

Tune in to the episode to know more and know better.
And please don't forget to like, share and subscribe and leave a rating/review for the podcast on Spotify and Apple Podcasts.
I'll see you in the playground.
Until next time.
Peace out.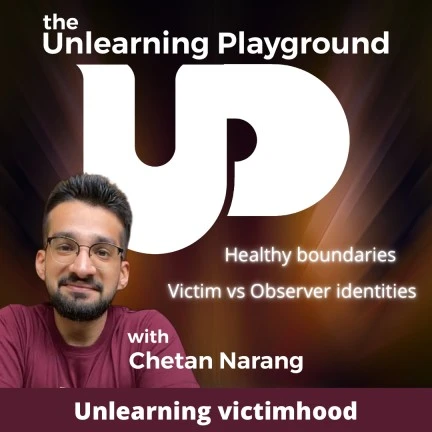 Check it out on your platform of choice.
Or listen on the custom player below
---
Hurt people hurt people.
If only we could realise how much this statement is true, and how much this applies not just to others but to our own lives as well!
Victimhood, like most things in life really, requires discernment of the highest order.
You see, all of us undergo some sort of trauma in our lives. This could be related to incidents or situations from our childhood, could be triggered by stuff we grew through as teenagers or adults, and so on. The ups and downs of life ensure that all of us see difficult times, that all of us are in situations when we are can't help but feel like victims.
Now as we grow up and start to call ourselves mature adults, a major chunk of our work lies in outgrowing this trauma and the accompanying victimhood, a process you can very easily call healing.
And I know that some of us don't like to use terms such as trauma and victimhood for our own life situations, but I still hope you're getting the gist of what I'm trying to convey. Call it whatever you want, coming out of the identity that such situations build within us is a part of growing-up-101.
And this is especially important advice for our times. If you are at all active on social media these days, you can really see this pattern emerge out of the conversations that we have publicly these days – people on all sides of all possible dichotomies fighting it out to lay their claim on the trophy of who is the biggest victim there ever has been. Whether it is the conservatives or the liberals, the men or the women, the Hindus or the Muslims, the Indians or the Pakistanis, the gays or the straights – everyone has one hand on the "trophy" of victimhood these days.
Surely there could be victims on both sides of all of these dichotomies, of course!
But if the mere fact that you are on one side as opposed to the other is making you feel like a victim, therein lies your work, my fellow human!
Someone very wise once said, "If you don't heal what hurt you, you'll bleed on people who didn't cut you."
If you let it, these few words have the power to trigger a change in you that your future self will thank you for.
I hope this episode can do so too.