Just this last week (early-June 2023), Apple released a video introducing The Apple Vision Pro.
It is a first-generation AR/VR headset, and Apple claims that with this device, the era of spatial computing is here. They claim this to be a life-changing technology.
In this episode of The Unlearning Playground podcast, I decided to record my first impressions about this new device, which is a part of a booming field in technology now – Augmented reality and Virtual reality. My thoughts are divided into three broad categories – the good, the bad & the ugly.
I think what you are about to consume in this episode would serve to be a contrarian viewpoint, when compared to most other videos out there on the internet about the apple vision pro.
Also, consider it to be a genuine request from my side, I want you to stay with me till the ugly part of this episode. That is where the real nectar lies. Trust me.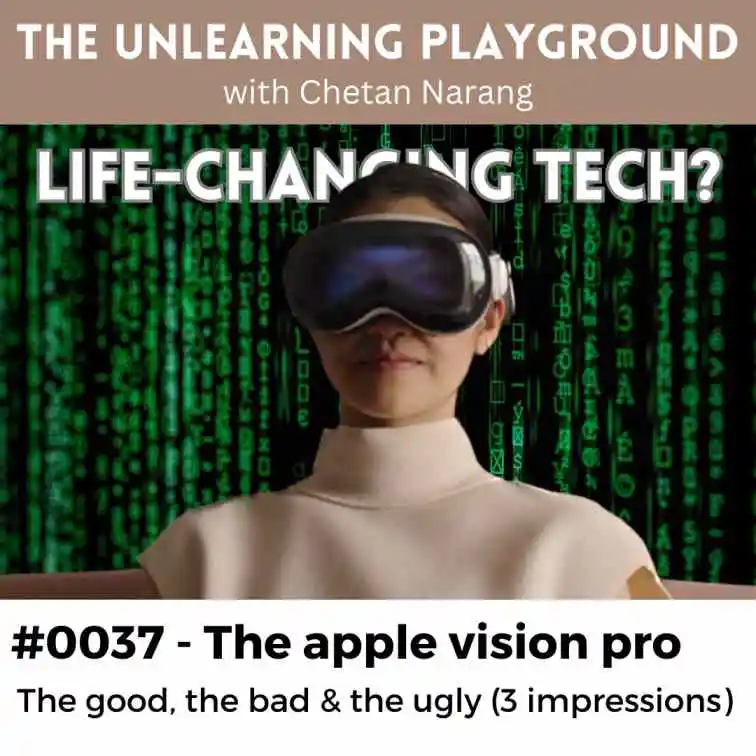 ---
<OUTLINE>
| | |
| --- | --- |
| 00:00 | The apple vision pro launch |
| 01:03 | The "good" stuff |
| 02:11 | The "bad" stuff |
| 02:24 | The apple vision pro price considerations |
| 03:32 | The "ugly" stuff |
| 05:41 | Photos, videos, memories & technology |
| 08:20 | Utility & corporate jargons |
| 11:03 | An invitation, in closing |
---
Check it out on your platform of choice.
Or listen on the custom player below