In this episode, I, Chetan Narang, walk you through the confirmation bias, which I believe is one of the most tricky cognitive biases primarily because of its ability to hide in plain sight even for the most self aware person.
I talk about where we can see this bias in our day-to-day lives.
I talk about some direct indicators for spotting it in our own thinking.
I talk about how we can guard ourselves against it.
And, I talk about why all of this is especially relevant in the modern day and age.
Plus, I throw in a funny anecdote or two because, why not?
I'll see you in the playground.
Until next time.
Peace out.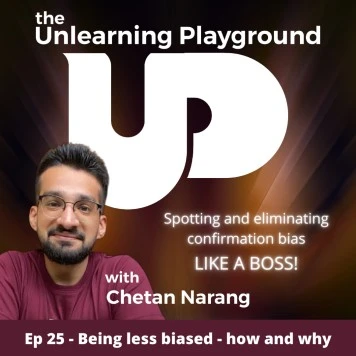 ---
<Outline>
| | |
| --- | --- |
| (00:00) | Intro |
| (00:30) | What is confirmation bias? |
| (01:46) | Some examples from our daily lives |
| (03:48) | How to spot if your own thinking is biased |
| (06:35) | Eliminating confirmation bias from your thinking |
| (08:38) | Why all of this is especially important now |
---
Check it out on your platform of choice.
Or listen on the custom player below
We humans are designed, in part of course, to be able to think quickly whenever a situation demands. But like a lot of mechanisms of our own thinking, this can come back to bite us in the most unexpected of ways.
How the confirmation bias works in our minds, is a brutal example of this latter kind.
The ability to think and react quickly can be quite handy in a lot of situations.
Picture a scenario where you're attacked by a predatory animal for example. You'd hardly have time to analyse whether the animal means you harm or whether you're projecting your own fear on its intentions. It could very well be game-over before that decision is made in your mind.
Or a simpler scenario where, let's say, your car is making some noise. If you've been driving for sufficient time now, you may be able to intuitively (and very quickly I might add) gauge whether it's a harmless commotion or a damn pandemonium that needs to be attended immediately. Labelling this aspect of our quick thinking as a bias isn't necessarily the most fruitful one.
Not all quick thinking should be termed as biased.
However, there are a host of situations where a quick answer is not only not the best one, but is often the wrong one. And confirmation bias plays a vital role in such scenarios.
If you aren't aware of how your own preconceived notions cloud what you interpret from a new piece of information, you are in for a treat in this episode of my podcast.
I talk about some examples from our day-to-day lives where the confirmation bias messes up our game.
Like most nuances of our minds, it is easier to see in others as compared to our own thinking. So, I also talk about some indicators on how to correctly spot it in both these scenarios.
And all said and done, I think this is one extremely tricky cognitive bias – one that we are never really ever rid of. In this episode, I also talk about some potent advice from my own experience that has helped me not fall prey to it in my everyday life situations.
If you sit and dwell on the content in this short 10-min episode, and I highly recommend that you do, you'd see how it is extremely relevant to a host of real situations we face almost on a daily basis – in our homes, in our offices, in our schools, in all of our relationships (personal, professional, casual, etc.).
So, without further ado, I recommend you get to the episode and digest it, and as always, do let me know if you have any feedbacks for me. I'm always looking forward to more of those – especially the honest kind.
Check out the episode on The Unlearning Playground YouTube channel here