Everyone goes through the highs and lows of life – no matter what social situation they're in, no matter how much privilege others perceive in their life situation, life has its highs and lows for everyone.
By their very definition, the low phases of life are more difficult to navigate for us. Join me in this episode as I talk about a few general dos and don'ts during such times.
Of course, any specific advice has to be tailored to the individual situation at hand, but my aim here is to cover a few general principles that form the bedrock of a lot of subjective advice that everyone can benefit from.
I'll see you in the playground.
Until next time.
Peace out.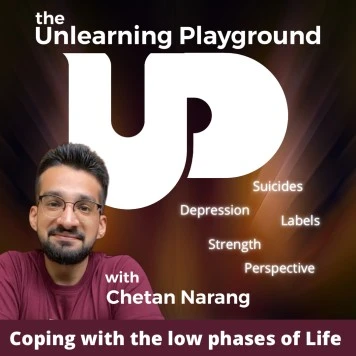 Check it out on your platform of choice.
Or listen on the custom player below
When Jimmy Kimmel, host of the popular late night American TV show Jimmy Kimmel Live, hosted Anthony Hopkins, he asked him a question that really stuck a chord with me. Anthony was close to 80 years old at the time, and Jimmy asked him if there is a single piece of advice he would like to share with the audience based on the sheer amount of time he has spent on the planet!
And Anthony Hopkins, very easily replied back saying, "Just keep going. Never give up."
How beautiful, right? And how powerful! Especially in terms of the topic we're talking about in this episode – depression help and suicide prevention.
You see, all of us have low phases in our lives. If you've lived long enough, you know that to be true. All of our lives are akin to sine waves – they have ups and downs, crests and troughs. The low phases, by their very definition, are more difficult to navigate for all of us. And in the lowest of our low phases, the thought of simply ending it all and just giving up can seem to be a viable option – or worse yet, can seem to be the only option at times.
It is at these situations when we need to exercise our conscious choice to not act on such thoughts, and rather, just keep going. Because no matter what, the sine curve does come back up. It has to. And if you are at the lowest of your lows, it can't get any worse – it's going to only get better.
And even if you don't believe that last bit, acting as if that's the case is a much better choice than not.
In this episode of my podcast, I talk about three general dos and don'ts for depression help and suicide prevention. The core aim, if there is one, for this episode, is to propagate the idea that there is a better choice available than ending it all – there always is.
Having said all that I said in this episode and on this page, I still feel that any real help and advice we need in those tough low phases of our lives have to be specific to our particular life situations and not simply based out of a motivational quote or an inspiring piece of literature someone's read. So, if you or anyone you know is in need of such advice, I know I can help. All the details for getting in touch with me personally, even if for a single one-time call and other nuances, are available on the talk-to-me page.
I think I'll end this page with another one of those beautiful quotes that can be life-changing if you let them.
"You never know what worse luck your bad luck has saved you from."

Cormac McCarthy, No Country for Old Men