Do we humans have free will?
Can we really choose to act?
Do our choices matter eventually?
Is there an easy-to-understand answer to these questions?
I delve into these questions in this short and meaningful episode via a quote that, for me, defines the legacy of Albus Dumbledore in the Harry Potter movies.
I also take the example of an interview that Harsha Bhogle did on Sachin Tendulkar a while back.
I think this is a very moving intersection of two seemingly dissimilar topics to drive home a point about free will that I find to be very important in our day and age.
Do I do all of this any justice?
Only one way to find out.
I'll see you in the playground.
Until next time.
Peace out.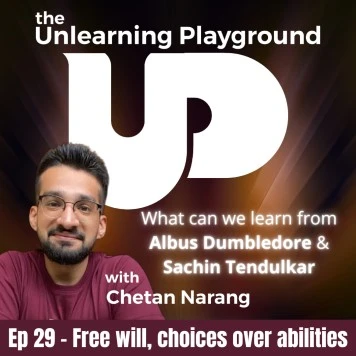 ---
<OUTLINE>
| | |
| --- | --- |
| 00:00 | Dumbledore & the magical quote |
| 00:35 | Where can we be better than animals? |
| 02:03 | Harsha Bhogle on Sachin Tendulkar |
| 03:00 | Free will |
---
Check it out on your platform of choice.
Or listen on the custom player below