Most people wish to become better at handling and resolving conflicts, but out of the dozen or so things that get in the way, one of the main blockers is the fundamental attribution error.
It sounds like a bit of a mouthful, but it is actually one of the easiest cognitive biases to understand. Of course the precursor being that you actually want to understand better rather than seek validation for what you think is already right.
In this episode of The Unlearning Playground Podcast, I delve into this topic in an easy-to-understand and simple manner. I talk about what this cognitive bias, the fundamental attribution error, really is, how to spot it in your everyday life and I also suggest 3 ways to help overcome it in situations where we most need to.
I think, once you get to seeing things from the perspective I try to build in this video, you would be well on your way to managing conflicts in a much more responsible and mature manner. This should enable you to be better at people skills which, as any adult in the room would tell you, is eventually what most of life is about.
I'll see you in the playground.
Hope you bring an open mind and an honest heart.
Until next time.
Peace out.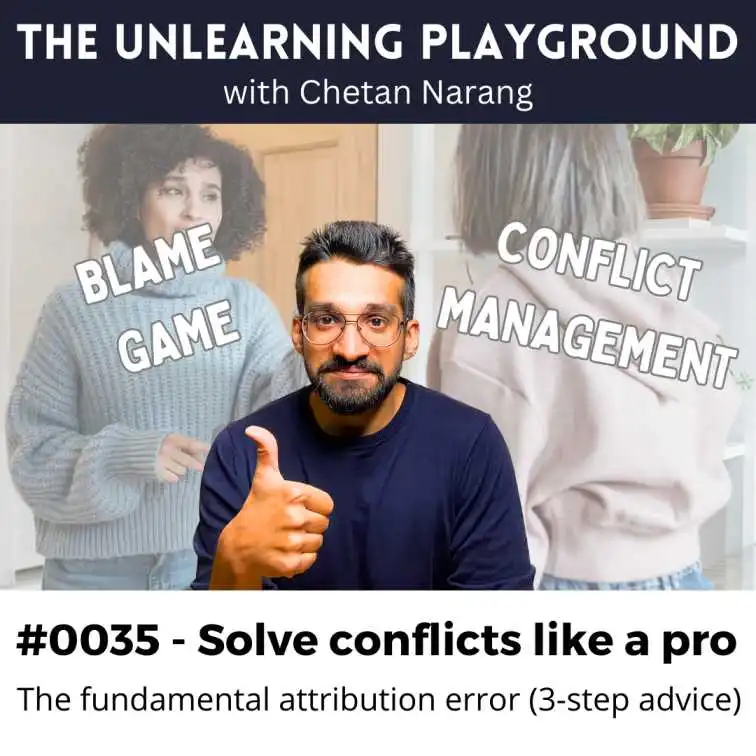 ---
| | |
| --- | --- |
| 00:00 | Intro |
| 00:22 | The fundamental attribution error |
| 01:17 | An everyday life example |
| 01:47 | The importance of understanding this |
| 02:19 | Advice 1 |
| 02:55 | Advice 2 |
| 03:31 | Advice 3 |
| 04:02 | Recap |
Check it out on your platform of choice.
Or listen on the custom player below