The new year is upon us, and with this being the last episode of 2022, I wanted to leave this year with a positive message for everyone listening.
The message this episode hopes to convey is one of hope, equanimity & having more positive vibes.
In the sensationalist times we live in, it's almost as if everyone is rushing around trying to be the next big thing or do the next big thing or at least trying to know about what the next big thing is going to be.
To be able to be hopeful on a personal and a collective level in such an environment, and to maintain equanimity and composure, are no small feats indeed.
Let's try to talk this through in this short, yet potent episode.
I'll see you in the playground.
Until next time.
Peace out.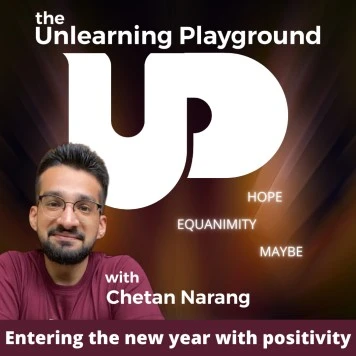 Check it out on your platform of choice.
Or listen on the custom player below
At the time of this writing, 2022 is about to end and a new year is upon us. I think that this episode, and the message it hopes to convey is one of extreme potency and significance considering the times we live in.
The episode features, in its first two minutes itself, one of the most moving stories I have had the pleasure of giving an ear to – Maybe, a short zen story. You may also know it as The story of the Chinese farmer.
I think the story has a lesson for all of us that's two-fold.
HOPE
Life throws curveballs, ups and downs at all of us. No one, and I mean no one – not Jesus, not Osho, not Jiddu Krishnamurti, not Swami Vivekananda – no one can deny this.
Staying hopeful, and wise, in the downturns is what matters.
If you are in a downward curve right now, hang on and keep going – an upward curve is just around the corner.
EQUANIMITY
How you handle and respond to and deal with the different situations Life throws at you, is where the utility of being equanimous lies.
Equanimity does not just mean being calm and composed externally.
It's rather better understood as an acceptance of the present moment, of the circumstances, of what is.
And then, acting out of love not fear.
How to incorporate more positive vibes in your life?
Incorporate hope & equanimity to the mix.
Here is a brief outline of the episode:
(00:00) – Intro
(01:22) – Maybe, a short Zen story
(02:32) – Hope
(03:42) – Equanimity
(05:50) – Why this is relevant in today's world
(06:55) – Ending, on a positive note!
We humans have this weird, but funny tendency to extrapolate and pay more attention to bad news when compared to positive or optimistic information. Have you ever noticed this in yourself?
If you keep an open eye and a curious ear around you, you'll notice how the maximum screen time is always headlined by content that's sensational, that keeps you glued to the screen, that captures your attention for a longer duration.
And nothing attracts us more than a prediction of how things are going to go bad real soon, and advices on what we should be doing about it.
Now that does make evolutionary sense – keeping an eye out for possible mishaps is basic 101 for survival. But letting our imagination go wild with it can pretty soon turn this feature into a bug that the human organism can no longer control, let alone use for its own good.
Not all fear is danger.

Rocco Jarman (https://eyeswideopenlife.org/)
And this is precisely why I think this is a timely episode for a lot of us. If you're someone who takes a constant dose of social media, news, influencer content, etc on a regular basis – this episode is a good antidote for bringing yourself back to reality.
And it's only 8 minutes long.
Do give it an open ear.