The framing effect is one of the easiest cognitive biases to understand and make sense of. Join me, Chetan Narang, in this episode of The Unlearning Playground podcast as I walk through an easy explanation for the same.
In addition to just talking about the framing effect, I talk about how it is very easily spotted in our modern day public discourse atmosphere via two frames or narratives that sway most of us enough to end up hating the other side of the argument.
One of the topics I've picked up is a very hot topic these days – the whole pro life vs pro choice debate, the anti abortion vs pro abortion fiasco. I try to walk through this very controversial topic all the while trying to drive home the point of looking at all sides of the topic rather than simply picking a side and dehumanising the other.
The other topic is another controversial one – Is there a wage gap between men and women in our society? Again, I explain how the framing effect can fog over our understanding of such simple yet very important topics of our times.
This episode is another one in my series of episodes about cognitive biases that I run on this podcast. You can check out the entire series here – Understanding human cognitive biases | Critical thinking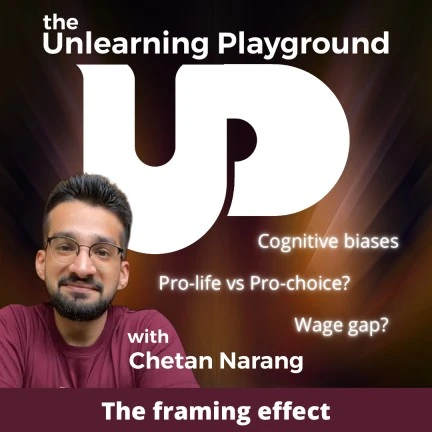 Check it out on your platform of choice.
Or listen on the custom player below
---
When it comes to critical thinking, I think it is almost a necessary part of growing up to realise a few things about thoughts and how they work.
Not everything that pops into your head is true. The journey from a thought being a thought or an opinion to it being the truth is a journey we should take cautiously and with an open mind and an open heart. At the end of the day, it's true that you don't know what you don't know.

Not everyone who disagrees with what you say is a radical, an extremist or an inhuman, wrongly-motivated individual. I'm not saying that that cannot be the case. I'm merely suggesting that that is not always the case. Listen to the other side too – they might be on to something you missed out.

We all think with the frames and narratives in our minds. Some of them are almost biological – such as the frames which help us avoid pain and injury, while some are social and cultural – such as the ones I talk about in the later half of this episode. It behoves anyone who wishes to think critically to become aware of the frames working under the hood in their own minds firstly, unlearn the attachments to their own favourite frames, and then help others do the same.
The key to learning and understanding the truths about Life, the universe and everything really is to remember to always keep an open mind and an open heart to new discoveries and understandings, because if one thing is certain about Life it is this – change is most definitely a constant.
The first step to letting go of our favourite frames is to become aware of them, and also of the movement whereby our own frames limit us at times.
Sometimes, all that's needed to do so is an external trigger.
Allow this episode to be that trigger for you today.
That is, after all, its main purpose.