One of the most fundamental questions every person asks at some point in their lives is – "What is the purpose of life?". Not surprisingly at all, this is also one question that most of us learn to suppress very early on in our lives.
In this episode, the first of season two of the unlearning playground podcast, I dive into this question head on. I think that the modalities discussed here – of being & becoming, of life & Life, of priorities, of sacrifices and of our soul's calling – are of utmost importance in truly grasping this ever-evasive question.
It is ok to feel lost sometimes, it happens to everyone.
It is ok to feel stuck sometimes, it happens to everyone.
It is ok to not know what to do next sometimes, it happens to everyone.
However, I have come to realise that we should not be ok with not doing anything about such feelings. Most of what needs to be done has more to do with the stance we approach them with.
As you will find it in this episode, this is not a direct invitation to change WHAT you do, in the sense of quitting your job and following your "passion". Although there is something to be said about that being absolutely necessary at times.
Rather, this is an invitation firstly to change HOW you are going about your life – how you're looking at your life, how you view your job, your relationships, your career, your purpose, your questions, your conversations and all the rest of Life.
This is an absolutely vital episode in the grand scope of all of my work at the unlearning playground I would say.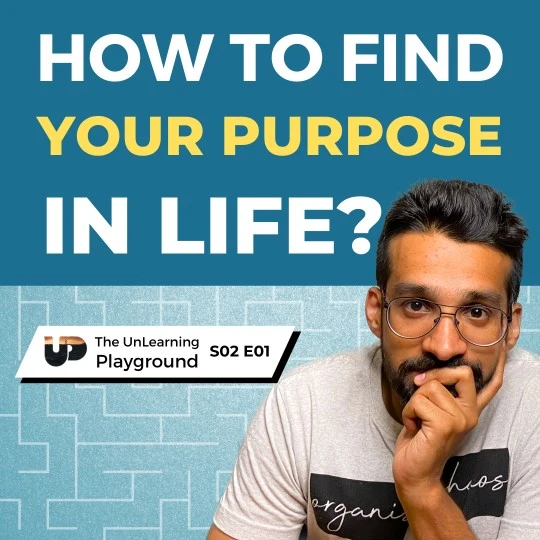 ---
| | |
| --- | --- |
| 00:00 | Introduction |
| 02:50 | Why talk about this at all? The crisis of meaning today's age |
| 09:52 | The two modalities – being & becoming |
| 10:51 | Being – life vs Life |
| 23:59 | Becoming |
| 31:28 | How to find your purpose? |
| 48:38 | Priorities |
| 56:18 | Sacrifices & your soul's calling |
| 01:01:19 | Concluding thoughts |
---
Check it out on your platform of choice.
Or listen on the custom player below