Why we sleep is an internationally bestselling book by Matthew Walker, an English scientist and professor of neuroscience and psychology at the University of California, Berkeley. He is someone who's widely regarded as one of the foremost sleep experts in the world.
In this episode, I talk about everything I learnt, and unlearnt, via this brilliant book. I can safely say that it is one of the best non fiction book recommendations of 2023 from me.
The amount of information he covers in this book is simply mind blowing. In close to 400 pages, he condenses close to twenty years of cutting-edge research on sleep and what every person should understand about it.
He talks about HOW MUCH one should sleep.
He talks about HOW one should sleep.
And he talks about WHEN one should sleep.
And of course, he touches upon various different aspects of these three massive areas – the role that caffeine plays in our sleep, the adverse effects of alcohol & smoking on a good night's sleep, the positive effects of watching sunlight directly at sunrise & sunset, etc.
And what's more – he also gives a bunch of real-life tips that you can directly apply to your everyday life as we speak. For instance, he talks in great detail about how to fix your sleep cycle in case it is messed up.
I think overall this is a brilliant book, and if you are one of those people who think they'll never really get to reading it, you should check out this summary episode of mine where I cover 9 key tips that I learnt, or unlearnt, via it.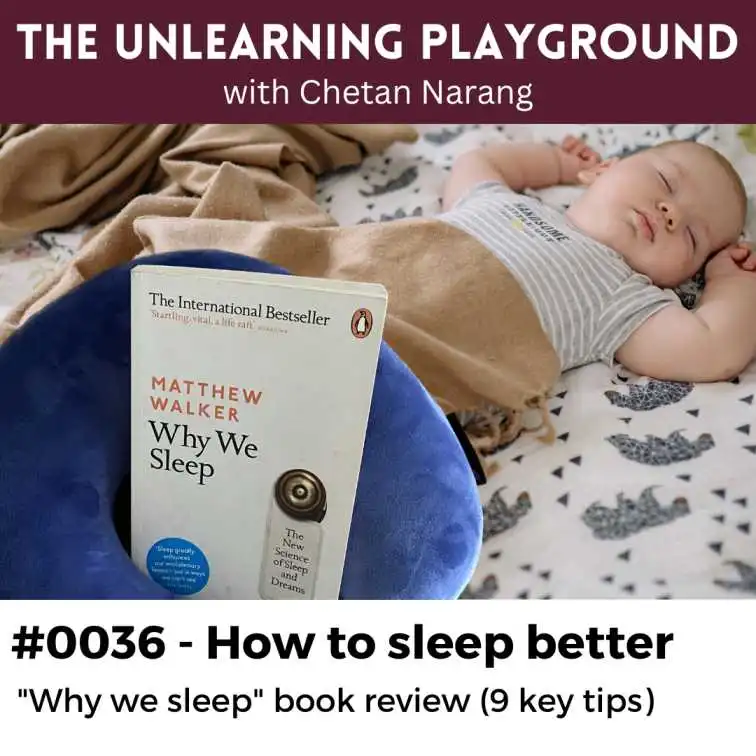 ---
| | |
| --- | --- |
| 00:00 | Intro |
| 00:50 | 3 main learnings from this book |
| 01:25 | It matters HOW MUCH you sleep. More than 5 hours daily? |
| 03:09 | How much should you sleep? |
| 04:09 | REM & Non-REM sleep – which is more important? |
| 05:43 | It matters HOW we sleep |
| 05:59 | Sleep only on weekends bio hack |
| 07:11 | Alcohol and sleep. Does alcohol help in sleeping better? |
| 08:20 | Exercise and sleep |
| 08:44 | It matters WHEN we sleep |
| 08:55 | Working late at night and cancer! |
| 10:05 | Circadian rhythm explained |
| 11:08 | Why your sleep cycle is messed up? |
| 12:00 | How to fix your sleep cycle? |
| 13:16 | Caffeine and sleep. How coffee disrupts sleep? |
| 15:22 | Recap |
---
Check it out on your platform of choice.
Or listen on the custom player below